---
UPCOMING EVENTS AT MT. MORRIS
---
BREAKFAST BIBLE STUDY - FRIDAYS AT 9:00AM
Our weekly morning Bible Study resumes this month. We are meeting on Friday mornings to continue our study of Henri Nouwen's book

Turn My Mourning Into Dancing: Finding Hope in Hard Times.

This group gathers at 9:00 a.m. each week to discuss a chapter from the book and its relationship to scripture and our faith journey. We will be gathering in a hybrid model both in-person and via Zoom:

https://us02web.zoom.us/j/81175567613?pwd=aXhQQ W9xNzBJdThrT01PU0c2dFNRZz09

Meeting ID: 811 7556 7613

Passcode: Bible
---
CHOIR HIATUS
As we continue to discern the leadership of the choir following the retirement of Dawn Wesenberg, the Elders have decided to have the choir take a hiatus, other than to participate in the Palm Sunday and Easter morning services, for the spring. Those who are a part of the choir are encouraged to consider forming groups to provide "special music" for other services if they would like.

---
SUMMER 2023 CAMP DATES
---
DONATIONS LIST
As we continue to look for ways to be good stewards of our finances, we would welcome any extra support from our congregation or friends who might be willing to donate supplies to our church. Click here to see what is needed and possibly sign-up to donate: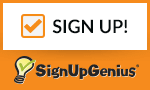 ---
BOARD OF ELDERS - UPDATE - APRIL 2023
The Elders met on the evening of April 18.
We received reports from the pastor and various committees.
We discussed feedback from the congregation.
We designated our May Joyful Noise offering to go to the Family Center and the June Joyful Noise offering to go Mt. Morris Camp and Retreat Center Building Fund.
We reviewed our Lent, Palm Sunday, Holy Week, and Easter worship offerings.
We affirmed May 7

th

as Moravian Music Sunday
We discussed our Summer Wednesday night Vesper services and decided that this year, we would hold it once a month in June, July and August on the Second Wednesday of the month.
We approved the request from "Run with Cops" to use our facility for registration and the starting and ending place for the race.
We approved the wedding request of Brooklyn Ceplina and her fiancé, Tim.
We discussed the summer worship times and reviewed what our traditions have been. We decided that as a compromise between the congregations that all blended into one, we will have our summer worship services at 9:30 a.m. from Memorial Day weekend (May 28) through Labor Day weekend (September 3).
We closed ourselves with prayer.
Our next meeting will be Tuesday, May 26 at 6:30 p.m.
---
BOARD OF TRUSTEES - UPDATE - MARCH 2023
Greetings! This month the Board met on Tuesday, March 14. Bob Derezinski was welcomed to the Board.

At this meeting we elected officers for the Board of Trustees: Chair -Michael Barnes; Vice Chair-Eric Voight; Secretary-Kevin Straughan.

We discussed an estimate of probable cost for the parking lot replacement ($85,000). This includes civil engineering fees, cost for plans, city approval and construction. The plans will need to come from an architectural firm which will take care of the civil engineering work and obtain approval from the city. The Board (s) will manage getting bids from contractors, and managing the actual construction. There have been no firms selected for the planning nor has there been any firms contacted yet for the potential construction. This estimate was an updated estimate from Gries Architectural with Kevin Straughan confirming the estimate with contacts he has through his work. This number isn't etched in stone, but is an reliable estimate that we will now use to submit grant applications for funding as we begin to seek monies for the project.

The boiler pumps for the church heating system had the bearings replaced by Tweet Garot this past month. The firm that checks the chemical health of the water in the system has recommended we add about 15 more gallons of antifreeze to the system. We have a surplus of antifreeze from the original installation, so all we need do is have Tweet Garot come in and add it.

The Board discussed cleaning and tuning the pipe organ. It was decided to have the cleaning done and to do a one-time tuning to have the organ ready for use at Easter. We have an estimate from Bogue Services for the service to run between $800 to as high as $1,200.

The Elders approved and the Trustees set a fee of $100 per a month for the downstairs kitchen use by someone who makes soap.

The Board heard reports of the Winter Market from Mike Barnes. Mike Barnes and Kevin Straughan also gave a report to the Board about the downstairs kitchen. They met with Kate Carlson from the Wood County Health Department about where the kitchen stands currently for potential certification. To our surprise, the kitchen mostly meets the requirements to be certified in its current state. It depends on exactly the kind of food prep and the type cooking or baking to be done. Ms Carlson gave us information about the different types/levels of license available. Mike and Kevin will continue to gather information on this for reference by the Board in our decision making on the kitchen going forward.
​
Respectfully Submitted, Michael Barnes, Chair
---
JOINT BOARD - UPDATE - APRIL 2023
The Board met on April 15 at 9:30 a.m.
We spent time sharing between the boards and the pastor the work that we've been doing and what we are currently working on.
We approved the Church Council minutes from January 2023.
We followed up on the Joint Board Training event we had in February with Marie Couts. This training began a process of goal setting for the board. Following rich conversation, we arrived at three goals for 2023:
Find ways to bring the congregation together and bring outsiders in.
Find ways to cultivate more congregational involvement and participation.
Work toward having a certified kitchen.
We designated leadership for the July 4
th
Brat Sale committee.
We decided that for the rest of the year we will meet quarterly.
Our next meeting will be on June 10 at 9:30 a.m.
---
MORAVIAN YOUNG ADULT CONVO - JULY 2023
Please join us for Moravian Young Adult Convo, July 3 – 11, 2023! More than 50 young adults from the Northern, Southern, and Jamaican Provinces of the Moravian Church are preparing for a Spiritual Pilgrimage to the Czech Republic and Germany, following the Brazen and Blazin' footsteps of the early Moravians to serve in mission with Czech Young Adults.

Registration closes on September 15, 2022.

For more information, please go to

https://www.moravian.org/ccd/2023-young-adult-convo/
---
BOOK SALE - GIFT CERTIFICATES AVAILABLE
| | |
| --- | --- |
| | As a part of our book sale this year gift certificates will be available for purchase. Starting in May, you can purchase a gift certificate to be used to purchase books at our Community Book sale in October. Certificates are available for purchase from any member of the committee or the church office. Keep it or give it as a gift. It can be redeemed in October at the book sale. These certificates will expire at the end of the sale. Consider giving one to a family member or a friend. |
---
PRAYER OF SERVANTHOOD
O God, our help in ages past, our hope for years to come. We give you thanks for your constant presence. Through seasons of stability and change, you are with us, calling us out of ourselves into the world to serve others. Grant that we may be united in love for each other and for those we haven't yet met. Grant us wisdom, patience, and perseverance as we work through the details and challenges of the ministry you have placed before us. Continue, O Lord, to bless the work of our hands. Bless the work of our hands.

​Amen.
---
---
RECYCLE YOUR INK CARTRIDGES
---
---